Porcini
Chanterelles
Black Trumpet
Mushroom Powder
White Truffles
Black Truffles
Table of Availability
All our products satisfy the highest standards of EU.
Long term co-operation with famous European supermarket chains is our reference and guarantee.
Porcini
Boletus Edulis
Porcini has a strong flavor with subtle
undertones. The flavor can be almost addicting.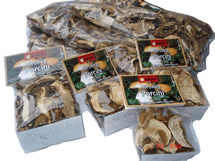 Picked from mid-spring to early autumn, porcini mushrooms, high in healthful anti-oxidants, retains much of the texture and taste of the original leaf.
Dried Porcini are very economical as the flavor is very concentrated.
In Italian, Porcini means "Piglets". Porcini is graded by size, color, aroma, and variety.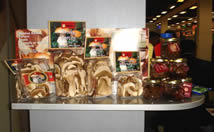 Suggested Use:
Porcini are delicious in soups, sauces, stuffings and stews.
Dried Porcini can be substituted for any Mushroom in any recipe; typically a smaller amount of Dried Porcini can be used in recipes than other Mushrooms because of the intense flavor of the Porcini.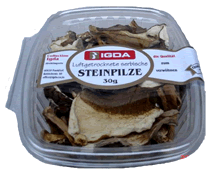 IGDA is pleased to offer different qualities as:
Dried Porcini
Fresh Porcini
Frozen Porcini
Dried Porcini
| | | |
| --- | --- | --- |
| Quality | Packaging | Quantity |
| Dried Porcini I class | PET & bags | 1oz, 2oz, 4oz, 8oz, 1lbs |
| Dried Porcini II class | PET & bags | 1oz, 2oz, 4oz, 8oz, 1lbs |
| Dried Porcini III class | PET & bags | 1oz, 2oz, 4oz, 8oz, 1lbs |
For 1oz of dried Porcini about 10oz fresh are needed.
Bigger quantities of dried porcini are also available for the restaurants and foodservice.
Frozen Porcini
| | | |
| --- | --- | --- |
| Quality | Packaging | Quantity |
| Frozen Porcini Piccolo I and II class | PET | 8oz, 1lbs, 4x5lbs, 10x2lbs, |
| Frozen Porcini Whole I and II class | PET | 8oz, 1lbs, 4x5lbs, 10x2lbs |
| Frozen Porcini Cubes I and II class | | 8oz, 1lbs, 4x5lbs, 10x2lbs |
| Frozen Porcini laminates I and II class | PET | 8oz, 1lbs, 4x5lbs, 10x2lbs |